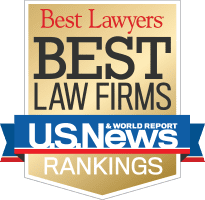 The law firm of Faraci Lange has once again been selected as a top-tier "Best Law Firm" among Rochester and Buffalo firms in the 2019 edition of U.S. News -- Best Lawyers®.
In the "Best Law Firms" Rankings, which were released today, Faraci Lange was listed as a Metropolitan Tier 1 Best Law Firm in the plaintiffs categories of:
Faraci Lange is a firm of trial lawyers with nearly fifty years of experience representing personal injury victims in Western New York. The law firm's attorneys are recognized routinely by their peers as among the nation's best, with annual recognition in Best Lawyers in America and Super Lawyers.
About Best Lawyers
Best Lawyers is the oldest and most respected peer-review publication in the legal profession. For a quarter-century, the company has helped lawyers and clients find legal counsel in distant jurisdictions or unfamiliar specialties.
Firms included in the 2019 "Best Law Firms" list are recognized for professional excellence with persistently impressive ratings from clients and peers. Achieving a tiered ranking signals a unique combination of quality law practice and breadth of legal expertise.
The 2019 rankings are based on the highest number of participating firms and highest number of client ballots on record. To be eligible for a ranking, a firm must have a lawyer listed in The Best Lawyers in America, which recognizes the top four percent of practicing attorneys in the United States.
If you are looking for an experienced and reputable law firm to handle your personal injury case, contact us today.