Rochester Rideshare Accident Lawyers
Representing Victims of Uber & Lyft Accidents in Buffalo & Beyond
As rideshare apps like Uber and Lyft become increasingly popular, the risk of being involved in an accident with a rideshare vehicle has also increased. In fact, because rideshare drivers do not need any special training or experience in order to work for these companies, your risk of being injured in an Uber of Lyft accident is essentially the same as your risk of being involved in any other type of car or motor vehicle accident.
While there is nothing that can undo the ordeal of being in a motor vehicle accident, there are, fortunately, several options for recovery for individuals who are injured in collisions with rideshare vehicles. If you or someone you love was involved in an accident with an Uber, Lyft, or another type of rideshare vehicle, contact Faraci Lange, LLP for help with your personal injury claim. Our Uber & Lyft accident attorneys have handled thousands of car accident claims for clients in Buffalo, Rochester, and all of the surrounding areas; we understand the laws regarding rideshare accidents, and we know how to help you seek maximum compensation for your damages.
For a free consultation with one of our rideshare accident lawyers in Buffalo & Rochester, contact us online or call (888) 997-4110 today.
Who Is Liable for an Uber or Lyft Accident?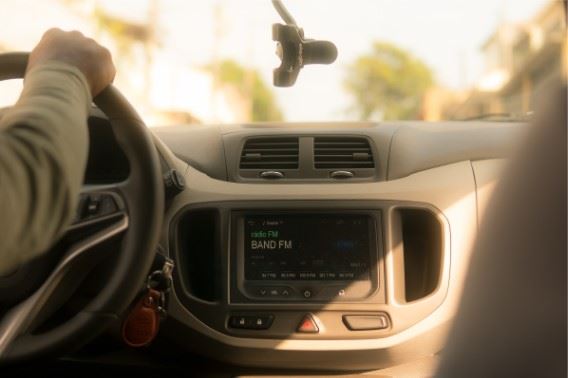 Because major rideshare companies, like Uber and Lyft, classify their drivers as independent contractors, they are generally not liable for the actions of their drivers as an employer would be of its employees. However, both Uber and Lyft do offer insurance coverage in the event of an accident. This coverage varies depending on the particular circumstances of the collision, meaning the factors involved in your particular accident will play a role in how much compensation you are able to recover. It is also important to note that both Uber and Lyft's insurance coverage only kicks in once you have exhausted your own no-fault insurance policy's coverage.
There are three primary situations that affect your right to compensation after a rideshare accident:
Situation One: The Driver Does Not Have the App Turned On: If the rideshare driver does not have the app turned on, neither Uber nor Lyft offer any type of insurance coverage. Such accidents should be treated as any other normal car accident; seriously injured parties can seek compensation through their own no-fault insurance or the driver's no-fault insurance (depending on the situation).
Situation Two: The Driver Has the App Turned On but Has Not Accepted a Ride: If the rideshare driver has the app turned on but has not accepted a ride and, therefore, does not have a passenger in the vehicle, Uber and Lyft offer up to $50,000 per person in bodily injury coverage, up to $100,000 total per accident in bodily injury coverage, and up to $25,000 in property damage liability. For example, if you are driving your own car and you are hit by a rideshare driver who has the app turned on but hasn't accepted a ride, you can recover up to these amounts after exhausting your own no-fault policy if your damages exceed your policy limits.
Situation Three: The Driver Has the App Turned On and Has Accepted a Ride: When the rideshare driver has the app turned on, has accepted a ride, and is either on the way to pick up a passenger or is transporting a passenger, both Uber and Lyft offer up to $1 million in coverage. This applies to rideshare passengers, as well as others involved in the accident, such as third-party motorists, pedestrians, or bicyclists.
As you can see, the exact circumstances and factors present in your case will be key in determining how much and what type of compensation you may be able to receive. Our Rochester rideshare accident attorneys work with a team of medical experts and accident reconstruction specialists in order to determine exactly what happened, how severe your injuries truly are, and what compensation you are owed.
What Should You Do If You Get In an Accident in an Uber or Lyft?
As long as you were not in some way responsible for the accident, as a passenger you should be protected under either the rideshare company's insurance, or the other driver's insurance (depending on who was at-fault for the accident). After the accident, you should take the following steps to ensure you get compensation:
Collect Contact and Insurance Information from Both Drivers at the Scene - Don't wait for the police report to come out. You can get started filing your claim right away.
Keep a Record of Any Injuries & Medical Treatment - By keeping a detailed journal of your injuries and the recovery process, you may make it easier to recover fair compensation for your injuries during the lawsuit.
Hire an Attorney to Represent You - We can help you navigate the ins and outs of the legal system and ensure you don't miss any important paperwork; if the insurance company fights your claim, we can help you fight back.
What Happens If an Uber or Lyft Driver Hits You?
If your vehicle is hit by a rideshare driver, you should follow general accident claim procedures. If you suffered serious injuries that allow for you to sue the at-fault party, you should file a claim against the rideshare driver. Their personal insurance will most likely refuse to pay because the driver was using their car for commercial purposes, which is typically not covered by personal car insurance.
In cases like this, the rideshare company (whether Uber or Lyft) tends to provide supplemental insurance to their drivers for accidents just like this. In other words, it's still possible for you to obtain compensation from the company itself if you are hit by a rideshare driver.
Contact Our Firm for a Free Consultation
Being involved in a rideshare accident, either as a passenger or as another involved party, is an extremely frightening experience. You shouldn't have to simply face the consequences of someone else's negligence on your own.
At Faraci Lange, LLP, our highly accredited and award-winning legal team can help you fight for the full, fair recovery you deserve. When you work with us, you don't just get one attorney—you get a full team of lawyers and legal professionals, medical experts and specialists, and support staff all working for you. With over 52 years of experience and a hard-earned reputation among our peers, as well as local judges, our firm is ready to fight for you.
Call our office at (888) 997-4110 or submit an online contact form today to request a complimentary consultation.
More Than A Case
Our Clients Are Our Priority
"Every person we encountered at Faraci Lange was supportive and worked diligently to settle our case with the very best results possible."

- Former Client

"I can't thank them enough for their hard work and diligence in resolving my case favorably."

- Phil N.

"I would most definitely recommend this firm to anyone in need of a top personal injury lawyer."

- Michael M.

"A tragedy is difficult, but with such wonderful, caring people guiding us, the horrible time in our lives was made a little easier to deal with."

- Lisa P.

"They were never too busy to speak with me and address my issues."

- Ronald W.