Rochester Medical Malpractice Attorneys
Representing Victims of Medical Negligence in New York
Medical malpractice refers to the negligence of someone in the medical profession. This most typically involves a doctor, but can be a nurse or other medical provider as well.
At Faraci Lange, LLP, we have earned a reputation as one of the most successful law firms in the area in the area of medical malpractice. With nine attorneys listed in the Best Lawyers in America® directory in the field of medical malpractice, four legal nurse consultants on staff, and access to some of the most highly qualified experts in the country in all medical specialties, we have what it takes to aggressively and effectively pursue your claim. In fact, many attorneys refer clients with potential medical malpractice claims to Faraci Lange, LLP.
To learn more about how we can assist you with your case, call our medical malpractice attorneys in Rochester at (888) 997-4110 or contact us online today for a free initial consultation.
Why Experience Matters
Medical malpractice claims are among the most difficult claims to evaluate, work up, and prove at trial. That is why it is extremely important to work with attorneys who have extensive experience in this area of law. Additionally, that is also why it is highly unlikely that attorneys without such experience could successfully handle a medical malpractice case.
Faraci Lange, LLP has been representing victims of medical malpractice for more than 52 years. This experience often provides a tremendous advantage to our clients and results in a high success rate, contrary to the statistical average outcome for this type of claim in New York State. This high success rate is attained through extensive and detailed upfront analysis by a team of highly experienced Rochester medical malpractice lawyers, nurses, and medical experts at the outset, followed by thorough case preparation. This approach has led to successful resolution of a high percentage of our medical malpractice cases before trial, including some that are resolved even before a lawsuit is filed.
What Do You Need to Prove in Order to Win a Medical Malpractice Case?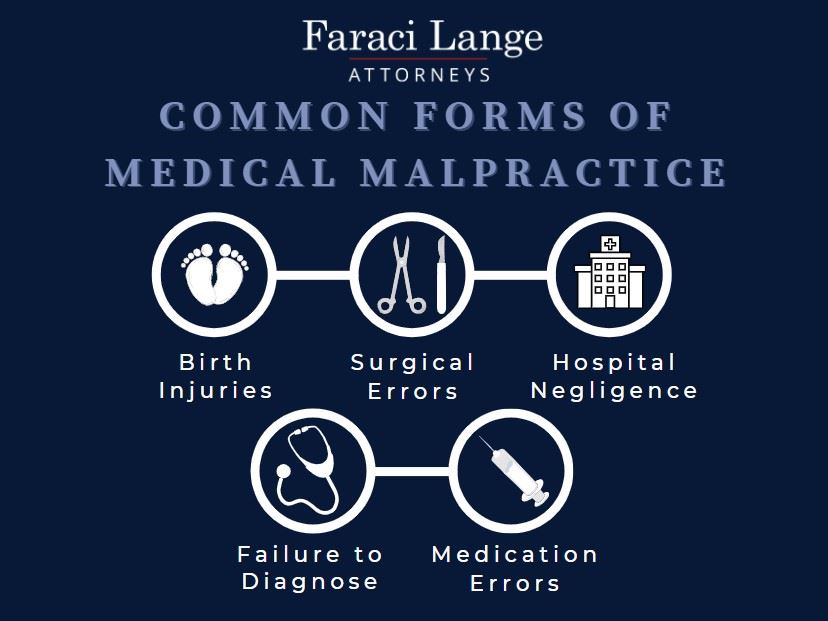 In order to succeed with a medical malpractice claim, you must prove that the doctor or another health care provider failed to practice within what is referred to as the "standard of care." The standard of care refers to the general standard of practice for a reasonable practitioner in a particular area of medicine.
What Is Included In Standard of Care?
Proving that you suffered a bad result from a medical treatment or procedure is not sufficient to meet this burden. Bad results can occur without negligence on the part of the doctor. To succeed, the injured victim must prove that the doctor did something a reasonable physician would not have done or failed to do something a reasonable physician would have done.
How Do You Prove Causation?
If a departure from the standard of care is established, then it must also be established that the mistake or error proximately caused the injury complained of. This is referred to as "proving causation." Proving a departure from the standard of care but failing to prove causation will result in the plaintiff losing at trial. Therefore, this element must be carefully evaluated prior to undertaking the case.
How Long Do Medical Malpractice Cases Take to Resolve?
There is no one-size-fits-all answer for this question because it depends largely on how complicated your case is and whether or not the hospital or medical professional is will to accept responsibility. Some cases can be resolved in a matter of months, while others may take years and require your attorneys to take your claim to court.
No matter how complex your case may be, the team at Faraci Lange is ready to fight for you and your family until we get you the compensation you deserve.
Do Most Medical Malpractice Cases Settle?
Yes. Data shows that over 90% of medical malpractice cases usually end up settling before they go to trial. This is because most large medical companies do not want to face the expensive, and time-consuming process of going to court. In most cases this also benefits the malpractice victim because it allows them to receive compensation for their injuries more quickly and also means they won't have to expend time, money and energy in going to court. However, our team will work with you to decide what is best for your case. If that means going to trial, we're ready to fight for you!
Why Choose Faraci Lange, LLP?
With our highly experienced medical malpractice lawyers in Rochester and talented nurse consulting staff, Faraci Lange, LLP has the knowledge, resources, and experience to succeed against the insurance companies representing doctors and hospitals. Our team can thoroughly evaluate your claim, retain the qualified experts needed for trial, and master the subject matter of even the most complex medical cases. We are proud to represent individuals in Rochester, Buffalo, Monroe, and the surrounding counties in complex medical malpractice and negligence claims.
To contact Faraci Lange, LLP about a potential medical malpractice case, call (888) 997-4110 or click here to submit an online contact form for a free legal consultation. We proudly serve Rochester & the surrounding areas!
Related Reading:
More Than A Case
Our Clients Are Our Priority
"Every person we encountered at Faraci Lange was supportive and worked diligently to settle our case with the very best results possible."

- Former Client

"I can't thank them enough for their hard work and diligence in resolving my case favorably."

- Phil N.

"I would most definitely recommend this firm to anyone in need of a top personal injury lawyer."

- Michael M.

"A tragedy is difficult, but with such wonderful, caring people guiding us, the horrible time in our lives was made a little easier to deal with."

- Lisa P.

"They were never too busy to speak with me and address my issues."

- Ronald W.