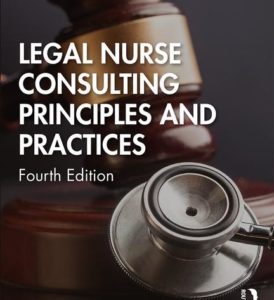 The American Association of Legal Nurse Consultants (AALNC) recently announced the publication of the Legal Nurse Consulting: Principles and Practices Fourth Edition.
This textbook serves as the preeminent resource for all legal nurse consultants. Written and edited by experienced legal professionals with specific subject matter expertise, Legal Nurse Consulting: Principles and Practices Fourth Edition provides a framework for LNC practice at all stages of a legal nurse consultant's career.
Faraci Lange Legal Nurse Consultant, Elizabeth K. Zorn, is a Lead Associate Editor of the new textbook and has also co-authored three of its chapters.

Legal nurse consultants apply their nursing education, training, and clinical expertise to the evaluation of medically related issues in legal cases or claims. The more LNCs learn and understand the legal context in which this evaluation is performed, the more valuable their work products become to their clients and employers.
The continuous evolution of legal nurse consultant practice and the legal arena necessitated this most recent update to the textbook.
The Fourth Edition features a significant content adjustment and reorganization to allow readers to build their knowledge base as the textbook progresses from the essentials of legal nurse consulting and the law through the adjudication of medical-legal cases.
To achieve an even higher-quality benchmark for this widely used textbook, content experts were utilized during every step of the process. Each chapter was written by an author or authors with extensive expertise and experience in the topic and was carefully vetted by another content expert(s) through a double-blind peer review process.
View the full list of contents and authors here.
Elizabeth Zorn co-authored the following chapters: Professionalism, Ethics, Scope and Standards of Practice; Case Analysis -- Personal Injury; Legal Nurse Consultant Practice Within a Law Firm.
It is because of this consideration and attention to the thoroughness and quality of the content that this textbook is used by AALNC and other providers of LNC education as the core for curriculum development. It is also used by the ALNCCB® and its volunteers as a resource in developing questions for the Legal Nurse Consultant Certified (LNCC®) examination. As such, Legal Nurse Consulting: Principles and Practices Fourth Edition is recognized as the pre-eminent resource on the practice of legal nurse consulting.