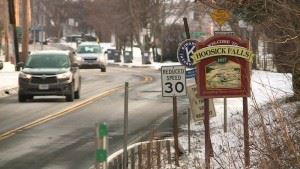 The federal Environmental Protection Agency has now recommended a stricter water quality standard in Hoosick Falls after the toxic chemical perfluorooctanoic acid, or PFOA, was found in the village's water supply.
The EPA is now developing a lifetime health advisory for PFOA, which is used in non-stick cookware, stain-resistant carpets and packaging. The EPA considers 400 parts per trillion a safe level, but is now recommending that residents whose water contains levels greater than 100 parts per trillion to "not use that water for drinking or cooking," according to an agency statement. EPA officials advised those residents to get free bottled water offered at a Tops market in Hoosick Falls.
The new federal figure is about a quarter of the baseline that state Department of Health Commissioner Howard Zucker said the state would use on Wednesday evening. Previously, state officials relied on the far higher rate of 50,000 parts per trillion even as other states recognized the danger of PFOA and used the federal benchmark.
After a meeting at Governor Andrew Cuomo's office on Wednesday, state officials declared the source of possible contamination as a Superfund site in need of remediation.
For decades, the Saint-Gobain factory in Hoosick Falls produced Teflon-coated materials that the EPA says may have contaminated the village water supply with PFOA. The EPA is investigating whether that chemical may have seeped into village wells when workers cleaned smokestack filters and other equipment at the factory, which Saint-Gobain has owned since 1999. Other factories in town may have also used the chemical, so its exact source has not yet been pinpointed.
U.S. Senator Charles Schumer sent a letter to Saint-Gobain's president and CEO Tom Kinisky, urging the company to cooperate with state and federal officials to clean the water until the cause has been discovered and mitigated. He suggested Kinisky not to follow the same strategy of alleged polluters in the past who elected "to stall for time, to litigate, to stonewall, to stall and to frustrate."
"These developments, and others, have cast a pall of uncertainty and fear over the Hoosick Falls community, with wide ranging impacts from health and emotional well-being to the local economy," Schumer wrote in the letter. "The only way that this uncertainty and fear can be addressed is by speedily defining all potential sources of the contamination, the nature of the contamination, the threat the contamination poses to human health and how far it has spread."
Read the full article here.
Faraci Lange is currently investigating bringing a lawsuit against one or more companies believed to be responsible for the cancers and other illnesses caused by this PFOA water contamination in Hoosick Falls.
Residents of Hoosick Falls and other communities who believe they may have been impacted are encouraged to contact Stephen G. Schwarz at (585) 325-5150 or contact us here.