A study conducted by doctors at Johns Hopkins was published in the BMJ on Tuesday, finding that medical errors may be the third leading cause of death in the United States.
Researchers estimate that at least 251,454 lives are lost due to medical errors in the United States every year. The total count is believed to be much higher as deaths occurred at home or in nursing homes are not counted in this estimate.
This makes medical errors in health care facilities the third highest cause of death following right behind heart disease and cancer.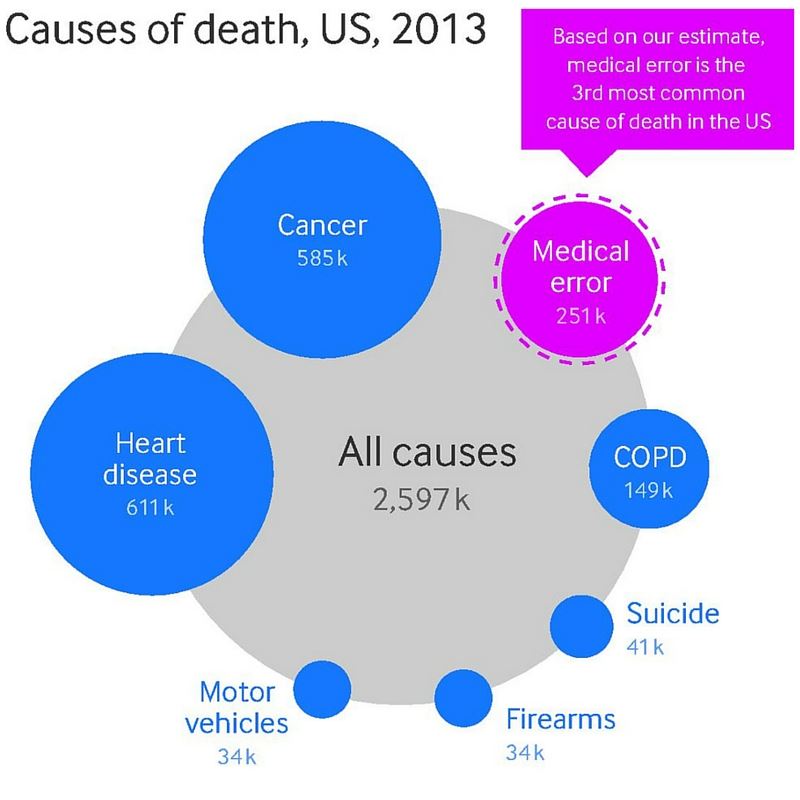 Martin Makary, the professor of surgery at the Johns Hopkins University School of Medicine who led the research, explained that these medical errors include everything from bad doctors to more systemic issues, such as communication breakdowns when patients are handed off from one department to another.
"It boils down to people dying from the care that they receive rather than the disease for which they are seeking care," Makary stated.
The study also found that most of these medical errors go unobserved in the official record.
This is due in part to the fact that death certificates do not ask for enough data, Makary said. Currently, the cause of death listed on the certificate has to match with insurance billing codes, which do not adequately capture human error or system factors.
Another element of harm that should be considered and is often overlooked is the number of severe injuries patients experience due to medical errors.
Frederick van Pelt, a healthcare consultancy doctor, states that, "Some estimates would put this number at 40 times the death rate."
Read more about this study on CNN and The Washington Post.
Doctors are human and so errors are inevitable, but what happens when such negligence does occur?
Medical malpractice refers to the negligence of someone in the medical profession. These claims are among the most difficult claims to evaluate, work up and prove at trial. That is why it is extremely important to work with attorneys who have extensive experience in this area of law.
Faraci Lange has been representing victims of medical malpractice for more than 45 years. This experience provides a tremendous advantage to our clients and results in a high success rate, contrary to the statistical average outcome for this type of claim in New York State. This high success rate is attained through extensive and detailed upfront analysis by our team of highly experienced attorneys, nurses and medical experts at the outset, followed by thorough case preparation.
To contact Faraci Lange about a potential medical malpractice case, please contact us at our Rochester or Buffalo office or call us at

(888) 997-4110

for a free legal consultation.