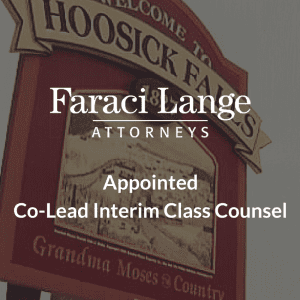 The United States District Court for the Northern District of New York issued an order today appointing the Law Firms of Faraci Lange and Weitz & Luxenberg as Co-Lead Interim Class Counsel in the Hoosick Falls water contamination lawsuit.
The order also granted requests to consolidate four similar claims alleging that Saint-Gobain Performance Plastics and Honeywell International caused the groundwater in Hoosick Falls to be contaminated with the hazardous chemical, PFOA.
Plaintiffs claim that the contamination caused residents to be subjected to numerous health issues as well as devaluation of their property in the area.
After considering several competing proposals for appointment of interim class counsel, the court decided in favor of the Faraci Lage and Weitz & Luxenberg group, citing their, "...extensive experience in mass tort litigation in general, as well as specific experience in water contamination class actions in New York State."
The order also noted the active involvement of both law firms in identifying and investigating potential claims since the earliest possible stage of the contamination in Hoosick Falls, as well as "conducting meetings, advising residents, and consulting with experts."
Faraci Lange and Weitz & Luxenberg has met with over 1000 residents and has been retained by approximately 700 clients at the time of the Court's initial hearing in June.
Attorneys Stephen Schwarz and Hadley Matarazzo at Faraci Lange, as well as Robin Greenwald at Weitz & Luxenberg, represent the plaintiffs as co-lead counsel in the Hoosick Falls lawsuit.
Visit our Upstate NY Water Contamination website to learn more or contact us today.