Buffalo Medical Malpractice Attorneys
When Medical Errors Cause Serious Injuries & Harm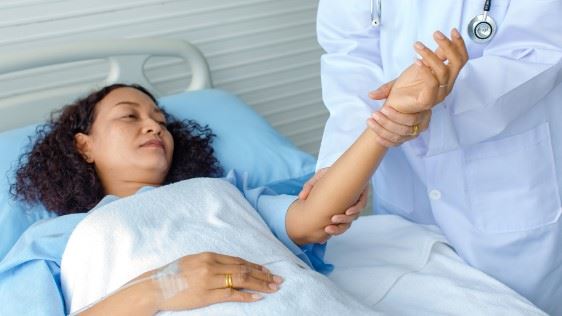 A medical practitioner who causes undue or avoidable harm to a patient can be accused of committing medical malpractice. In turn, medical malpractice can be answered with a civil claim or lawsuit filed against that medical practitioner and/or the medical institution that allowed them to practice there. Although the concept of a medical malpractice claim seems straightforward, pursuing compensation and securing it is notoriously complicated and difficult due to legal knots and insurance regulations.
If you need to pursue a medical malpractice claim in Buffalo, New York, then there is no team you should trust more than Faraci Lange, LLP. Multiple attorneys at our firm are listed in the Best Lawyers in America® for Medical Malpractice. We also have four legal nurse consultants on staff to lend unparalleled insight into difficult cases. In other words, few law firms in Buffalo – if not the rest of the country – can claim to be as prepared to take a medical malpractice case as we are.
Your case should start today. Call our medical malpractice lawyers in Buffalo at (888) 997-4110 or contact us online.
What is Medical Malpractice in the Law?
A medical error that hurts a patient or worsens their health conditions is clearly a problem, but it is not always medical malpractice. In order for there to be medical malpractice, four specific elements must be present within the case. Without them, the mistake is just that: a mistake and not grounds for legal action.
The four elements of a medical malpractice claim are:
Duty: The medical provider must have had owed the patient a duty of care due to a doctor-patient relationship.
Breach: The medical provider must have breached that duty by doing something outside the acceptable standard of medical care, i.e., doing something another medical provider reasonably would not have done in the same set of circumstances.
Cause: The breach of duty and inadequate care must have caused the patient to suffer some sort of injury, which includes a worsened health condition that otherwise could have been treated.
Damage: The injury must have caused the patient to suffer measurable damages, like additional medical treatment costs, lost wages, etc.
Who Can Be Sued in a Medical Malpractice Claim?
Any medical provider can be named as a defendant in a medical malpractice claim if they commit an error that constitutes such a claim. You do not have to file against a doctor or hospital group, even though those two types of defendants are among the most common.
A medical malpractice claim can be filed against a:
Doctor
Nurse
Surgeon
Pharmacist
Hospital or clinic
Support staff member
The type of compensation you can demand in a medical malpractice case can vary depending on who has been named as the defendant. For example, if your claim only targets a medical doctor, then the damages you can collect could be limited by their private practice insurance and possibly the value of their private assets. But if you can sue an entire medical group, then there might be a much larger insurance policy to file against.
What Are Common Types of Medical Malpractice?
Given that virtually any medical professional can commit medical malpractice, it is no surprise that medical malpractice comes in many forms. Our Buffalo medical malpractice lawyers are capable of working on any medical malpractice claim that comes our way. Although, some medical mistakes tend to occur more often than others.
Some of the most common forms of medical malpractice are:
Birth injuries: When an unborn or newborn child is injured due to a medical provider's mistakes, it is classified as a birth injury.
Surgical errors: Mistakes in the surgery theater can be catastrophic, such as amputating the wrong limb or leaving medical equipment inside a patient.
Hospital negligence: Problems with how a hospital is run – like staff schedules, patient record archives, and cleaning routines – can lead to medical malpractice.
Failure to diagnose: Missing a patient's condition and not diagnosing it can be just as harmful as conducting an unsafe medical procedure.
Medication errors: A patient who is given the wrong pharmaceutical medicine or prescription could suffer serious consequences.
How Do I Choose a Buffalo Medical Malpractice Attorney?
Choosing the right attorney for your malpractice case is a big step. How are you supposed to know what kind of qualities to look for? Here are a few of the most important things to look for when choosing a medical malpractice lawyer:
Experience - The likelihood of your case going to court is about 50% so it's very important that you hire a lawyer with trial experience. Our team has been representing injury victims for over 50 years.
Professional Resources - Expert witnesses are huge part of medical malpractice lawsuits, so it's important that the firm you hire has a strong working relationship with medical experts in the field related to your case.
Past Case Results - Results speak louder than anything else. The best way to tell if a lawyer is right for you is to look at their past casework and see what kind of settlements they have recovered for similar types of cases.
Reviews from Past Clients - When in doubt, read up on what past clients have said about an attorney. Did they keep them up-to-date on the case? Did they listen to their concerns? Did they go above and beyond to make sure they understood what was going on?
Compassion - At the end of the day, you want to hire an attorney who treats you like a person, not just a case number. What you have been through is traumatic, and having someone on your side who actually listens to your story can make all the difference.
One of the best ways to tell if an attorney is right for you is by meeting with them in person. Our team offers free initial consultations for potential clients, so you have nothing to lose!
Faraci Lange, LLP is Always Standing By
Our medical malpractice attorneys in Buffalo are here to make your life less stressful after suffering due to a medical provider's inexcusable error. Using our advanced legal backgrounds and professional connections throughout the area, we are equipped to make the most of your claim by bolstering it with convincing evidence of liability. Our goal is to secure an outstanding settlement that keeps you from needing to take the matter to court, but we're also ready to fight for you in litigation if that means getting justice in your name.
For a FREE legal consultation with a Buffalo medical malpractice attorney, dial (888) 997-4110.
More Than A Case
Our Clients Are Our Priority
"Every person we encountered at Faraci Lange was supportive and worked diligently to settle our case with the very best results possible."

- Former Client

"I can't thank them enough for their hard work and diligence in resolving my case favorably."

- Phil N.

"I would most definitely recommend this firm to anyone in need of a top personal injury lawyer."

- Michael M.

"A tragedy is difficult, but with such wonderful, caring people guiding us, the horrible time in our lives was made a little easier to deal with."

- Lisa P.

"They were never too busy to speak with me and address my issues."

- Ronald W.