Buffalo Motorcycle Accident Lawyers
Fighting for the Legal Rights of New York Bikers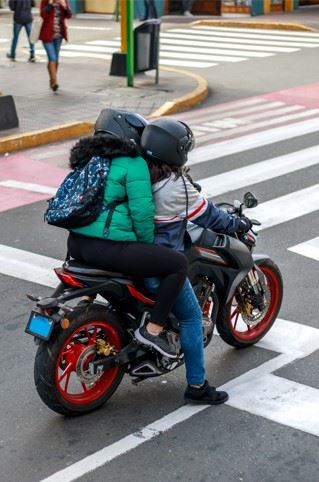 When a motorcycle and a larger motor vehicle collide, the resulting injuries can be especially catastrophic for the biker. Motorcycles do not afford the same protections as closed passenger vehicles, so bikers are often thrown off their vehicles and suffer serious injuries as a result.
At Faraci Lange, LLP, we are passionate about ensuring that bikers receive the just compensation they deserve when they have been wrongfully injured in a collision with another vehicle. Our motorcycle accident lawyers in Buffalo possess decades of experience fighting for the wrongfully injured both in and out of court.
We have what it takes to help you obtain the funds you need to cover your medical treatment, lost wages, and other accident related expenses.
Call (888) 997-4110 or contact us online to set up your free consultation with our Buffalo motorcycle accident attorney today!
On This Page:
Common Motorcycle Accident Injuries
Common motorcycle accident injuries include:
Road rash
Broken bones
Facial scarring and disfigurement
Head and brain injuries
Back and spinal cord injuries
Internal injuries
Muscle strains and sprains
Wrongful death
Where, When & Why Do Motorcycle Accidents Usually Occur?
Motorcycle accidents can occur anywhere—they are common in both urban and rural areas and on all kinds of roads. Busy intersections and rural highways are among the most common motorcycle accident locations. Most accidents occur between noon and midnight on weekdays and weeknights with the most dangerous times being rush hour on weekdays (about 3 to 6 pm) and between 6 to 9 pm on weekends.
Motorcycle accidents often occur due to:
Distracted driving, such as texting and driving
Government agencies and/or contractors creating poorly built or maintained roads
Motorcycle manufacturers who design and/or build defective parts
Motorists driving under the influence of drugs and/or alcohol
Motorists not looking for or paying attention to bikers
Motorists opening up their car doors in the path of an oncoming motorcyclist, also known as "dooring"
Reckless driving such as speeding, unsafe lane changes
NY State Helmet & Other Motorcycle Laws
In the state of New York, Motorcycle helmet use is required for all motorcycle riders. Unlike some other states, there are no exceptions to this law.
According to the New York State Department of Health, other laws New York motorcyclists and motorists should be aware ofinclude:
A motorcycle must always have certain equipment in good working order, such as lights, brakes, horns, mirrors, and mufflers.
Daytime headlight use is mandatory at all times.
Eye protection is required for all riders.
Only two motorcycles may operate side by side in a single lane.
Can I Still Recover Damages If I Wasn't Wearing a Helmet?
If the motorcycle accident was not your fault—or only partially your fault—you can still file a lawsuit against the motorist or other party responsible for your collision regardless of whether or not you were wearing a helmet at the time.
However, due to New York State's comparative negligence laws, if you were not wearing a helmet at the time of your accident then the compensation awarded to you may be reduced if you suffered a head injury that could have been avoided with helmet use. For example, a jury could determine that even though you did not cause the accident in question, you are 20% at fault for your head injury because that percentage of the damages could have been prevented if you were wearing a helmet.
Why Hire a Motorcycle Accident Lawyer?
Unless you are already well versed in motorcycle accident law and the injury claims process, having an attorney on your side is the best way to ensure you are compensated fairly. Motorcycle accident lawyers understand common legal challenges—such as the stigma against bikers—and how to overcome them. A motorcycle accident attorney in Buffalo can also make things easier by handling the necessary legal procedures on your behalf so you can focus fully on your recovery.
To discuss the details of your case and learn how exactly we can help, call (888) 997-4110 or contact us online for your free legal consultation.
More Than A Case
Our Clients Are Our Priority
"Every person we encountered at Faraci Lange was supportive and worked diligently to settle our case with the very best results possible."

- Former Client

"I can't thank them enough for their hard work and diligence in resolving my case favorably."

- Phil N.

"I would most definitely recommend this firm to anyone in need of a top personal injury lawyer."

- Michael M.

"A tragedy is difficult, but with such wonderful, caring people guiding us, the horrible time in our lives was made a little easier to deal with."

- Lisa P.

"They were never too busy to speak with me and address my issues."

- Ronald W.