Buffalo Bicycle Accident Lawyers
Bicycle Accidents in Erie County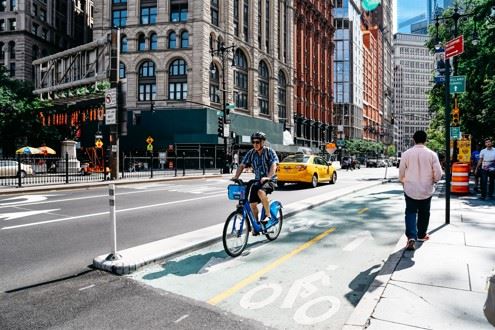 Every year in New York State, thousands of bicyclists are injured and dozens more are killed in collisions with motor vehicles. Often, these accidents are the result of motorist negligence, including distracted driving, speeding, or driving while intoxicated. Many bicyclists suffer catastrophic or even life-threatening injuries as a result of these collisions, leading to tens of thousands of dollars or more in medical bills, lost wages, and other damages.
If you were injured in a bicycle accident, or if your loved one was tragically killed due to the carelessness of another, you could be entitled to financial compensation. Although bicycle accidents are covered by no-fault insurance, it may be appropriate to step outside the no-fault system and file a claim against the at-fault driver's insurance provider or even sue the liable party directly.
At Faraci Lange, LLP, we can assist you in the aftermath of a serious bike accident. Based in Buffalo, our bicycle accident attorneys represent clients throughout Erie County and the surrounding areas. We have been serving all of Western New York since 1968 and have successfully recovered numerous favorable settlements and verdicts for our clients.
Contact us online or by phone at (888) 997-4110 today to schedule a free consultation with our Buffalo bicycle accident attorneys.
What Are the Most Common Causes of Bicycle Accidents?
Motorists are required by law to exercise "due care" when sharing the road with others, including bicyclists and pedestrians. These means leaving a safe distance between vehicles and bicycles, allowing cyclists to use the full lane (where permitted), and keeping a lookout for bicyclists before turning, changing lanes, or merging. However, many motorists fail to exercise due care and, instead, drive carelessly, recklessly, or aggressively, leading to serious collisions with cyclists.
Some of the most common causes of bicycle accidents include:
Speeding
Distracted driving, including texting while driving
Driving while intoxicated
Running red lights or stop signs
Failing to keep a safe distance, e.g., following or passing too closely
Passing unsafely or unlawfully
Making dangerous or illegal turns
Opening car doors into cyclists/oncoming cyclists' paths
Failing to check for bicyclists in vehicle blind spots
Driving in or cutting across designated bicycle lanes
Aggressive or reckless driving, including road rage
In some cases, bike accidents result not from the conduct of motorists but due to unsafe road conditions or poor roadway maintenance. For example, cracks, potholes, and other hazards pose a serious risk to bicyclists, as do less-than-ideal conditions, such as inclement weather, fog, or nighttime.
Where Do Most Bike Accidents Occur?
According to statistics gathered by New York City DOT, the vast majority of cycling injuries and fatalities occurred at intersections and involve another motor vehicle. Statistically, some of the most common causes of these accidents occurred when the cyclist was:
traveling adjacent to a motor vehicle (29%)
traveling at a right angle to a motor vehicle (27%)
hit by a turning motor vehicle (21%)
Are Bike Accidents Covered by No-Fault Insurance?
In New York, bicycle accidents are generally covered by no-fault insurance. This means that, if you have auto insurance, you can file a personal injury protection (PIP) claim with your insurance provider. You do not need to prove that anyone else was at fault to file a PIP claim; however, the type and amount of damages you can recover through no-fault insurance is limited.
In New York, no-fault insurance covers:
Medical expenses related to all "reasonable and necessary" medical care
Up to 80 percent of lost wages at a maximum of $2,000/month for up to three years
Up to $25/day for miscellaneous out-of-pocket expenses, such as transportation costs or household help
No-fault insurance also provides $2,000 to the estate when an individual dies in a motor vehicle collision, including bicycle-vehicle accidents. However, it does not pay anything for non-economic damages, such as pain and suffering or lost enjoyment of life. To recover compensation for these types of damages, as well as the full cost of your lost wages and other miscellaneous expenses, you will need to go outside the no-fault system and sue the liable party directly.
Can You Sue a Negligent Driver After a Bicycle Accident?
While it is possible to sue a negligent driver after a bicycle accident, there are certain eligibility requirements you must meet. You can only go outside the no-fault insurance system if you meet the state's "serious injury threshold."
To be considered a "serious injury" by the state of New York's definition, your injury must result in one of the following:
Significant disfigurement
Permanent impairment of an organ or member's use
Significant impairment of a bodily function or system
Substantial and total disability for at least 90 days
Bone fractures are automatically considered "serious injuries" in New York; all other injuries must meet one of the above requirements to meet the "serious injury threshold."
Many bicycle accident victims sustain severe, catastrophic injuries after being hit by larger, heavier vehicles. As a result, many are able to go outside the state's no-fault insurance system and seek compensation by filing claims against the at-fault drivers' insurance providers and/or suing the liable parties directly.
How Faraci Lange, LLP Can Help
If you or someone you love has been involved in a bicycle accident, you deserve justice. At Faraci Lange, LLP, we represent clients at every stage of the legal process—from the moment you reach out to our team, we will be there to provide the answers and guidance you need. For more than 50 years, we have been one of the most trusted personal injury law firms in Western New York. We are here to handle every legal detail of your case so that you can focus on your physical recovery. Our goal is to maximize your settlement or verdict so that you can get back on your feet.
Contact us online or call our office at (888) 997-4110 for a free consultation with our bicycle accident lawyers in Buffalo, NY.
More Than A Case
Our Clients Are Our Priority
"Every person we encountered at Faraci Lange was supportive and worked diligently to settle our case with the very best results possible."

- Former Client

"I can't thank them enough for their hard work and diligence in resolving my case favorably."

- Phil N.

"I would most definitely recommend this firm to anyone in need of a top personal injury lawyer."

- Michael M.

"A tragedy is difficult, but with such wonderful, caring people guiding us, the horrible time in our lives was made a little easier to deal with."

- Lisa P.

"They were never too busy to speak with me and address my issues."

- Ronald W.